WASHINGTON (CNN) -- President Barack Obama issued four executive orders Thursday to demonstrate a clean break from the Bush administration on the war on terror, including one requiring that the U.S. military detention facility at Guantanamo Bay be closed within a year.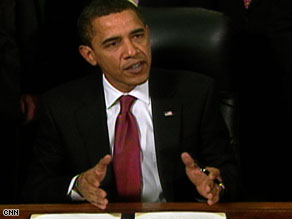 A third executive order establishes an interagency task force to lead a systematic review of detention policies and procedures and a review of all individual cases.
A fourth executive order delays the trial of Ali al-Marri, a legal U.S. resident who has been contesting his detention for more than five years as an enemy combatant in a military brig without the government bringing any charges against him...